Customers and designers benefit from method and tool development
Developing methods and tools at UKI Arkkitehdit is teamwork open to all willing employees, and it helps both designers and customers. Less errors and unnecessary work, more time for designing and higher wellbeing at work, architect Karita Lahti summarises the goals and results.
"The added value from development work manifests itself to the customer as controlled overall design work and high-quality designs", adds Lahti, who has managed the Methods and Tools support function for about six months.
Tough competition in the field and increased number of employees at UKI have been drivers in starting systematic development efforts. Continuous development is also one of UKI's values. All activities should be such that they inspire designers and produce added value to the customer, says Ulla Passoja, deputy managing director at UKI.
"Employee wellbeing at work and motivation are important justifications for development work. Unnecessary work stages and rigid methods waste working hours, and high-quality design requires more time", she continues.
Ulla Passoja is in charge of all support functions at UKI Arkkitehdit, and one of them is method and tool development. That includes all tools and methods used by design projects, such as design software Archicad and Revit, UKI's own interactive VALO2.0™ method as well as document templates, checklists and guidelines.
Working closely together
According to UKI's values, development work is open to all interested employees who want to contribute. The development teams have representation from different design groups and offices. This is how the long and diverse experience of the people can be brought to everyone's attention and disposal. Furthermore, comments and feedback from the whole personnel are considered and used in the development.
Clarifying support functions made development work more systematic. Separate development projects are now under the same umbrella, and work is planned, budgeted and purposeful, describes Juho Tastula, who is involved in the work.
Tastula says this is also a way to minimise the growing pains of a firm that has become one of the biggest in Finland. When a designer moves from one project to another, jointly agreed procedures and work methods accelerate project start-up.
"If, as a designer, I moved from school design, for instance, to an industrial customer project, I would immediately know how to do things technically. I would be able to focus quicker on pure design work", Tastula explains.
According to Karita Lahti and Ulla Passoja, there are different personalities working at UKI Arkkitehdit, which is a richness. Guidelines are therefore not meant to be restraining; person- and project-specific latitude is required in a creative design office. Developing shared methods means enabling and providing best practices – basis for actual design work.
"We have to understand where to use creativity and where precise structure and discipline is required. You can at least design and communicate with your own personality", they say.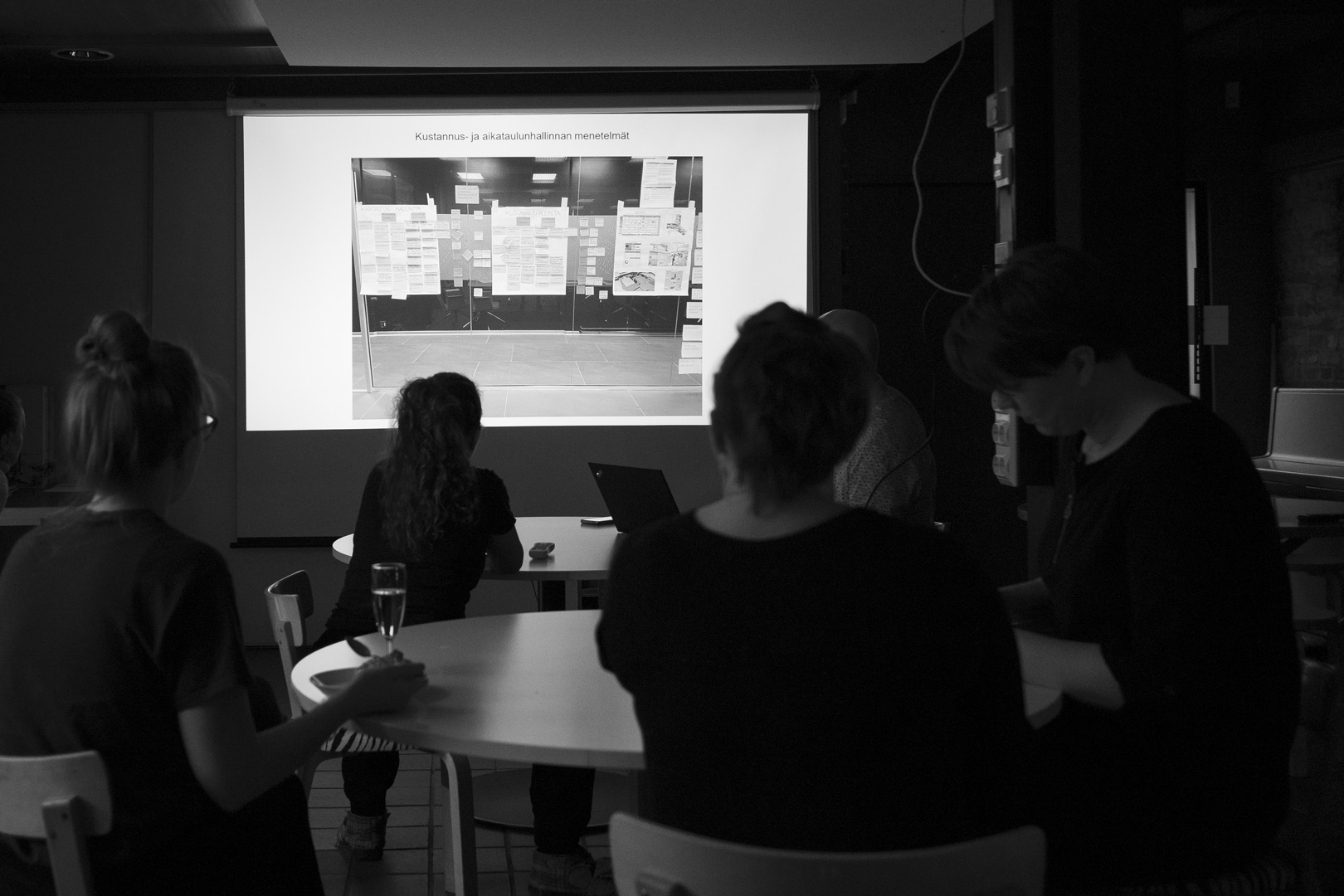 Development on three leveles
Developing and clarifying methods takes place on the company level. There's continuous experimentation and development also on the project level, and the best methods are introduced already in the next cycle. In multiyear hospital projects, for example, waiting for improvements till the start of the next project takes too long.
"Each UKI employee needs to think on the personal level how to work better than before. During a six-month follow-up period, employees monitor their own work and factors that have an impact on wellbeing at work, used working hours and customer satisfaction", Lahti says.
"Automating routine tasks in design gives us time for valuable design work and produces high-quality solutions to the customer."

Ulla Passoja, UKI Arkkitehdit
The method and tool development work at UKI Arkkitehdit has origins in Lean thinking, where unnecessary things are pruned away, error-prone points are honed, and issues are addressed on a factual basis. Design work requires creativity and new solutions, and the goal is to let designers focus on that as unhurriedly as possible. This produces added value to the customer.
"It's not just neat development buzz; we identify bottlenecks and fix them based on knowledge", says Lahti and shows the standard opus of the profession, Design Management for Architects.
"We don't aim to invent the wheel again. Already proven methods are introduced first. The goal is to give the designers peace to work. There's no need to contemplate how to make things work when others have already thought it out on the practical level in design programs, for example", Lahti and Tastula point out.