Solita received office spaces fit for their brand
Finnish technology, strategy and design company Solita Oy welcomed their new office spaces during the summer. The housewarming party was held in October. The interior designing was done by the team with interior architect Tanja Väyrynen, architects Kimmo Mansisto and Ulla Passoja and architecture student Mirva Korhonen.

Solita's new office spaces are located in the immediate vicinity of Shopping Centre Valkea – in the centre's part called Galleria – right in the heart of Oulu. The spaces are in two levels and 800 square meters in area.
Interior design architect Tanja Väyrynen says that Solita made a few wishes regarding the new office spaces; the premises should be comfortable, the interior should implement Solita's brand, the spaces should have enough meeting rooms and acoustics should be in order.
"Companies often wish that their office's interior would reflect their brand. In interior design, this primarily affects the visual appearance and color scheme of the office premises. This was the case with Solita, too" she says.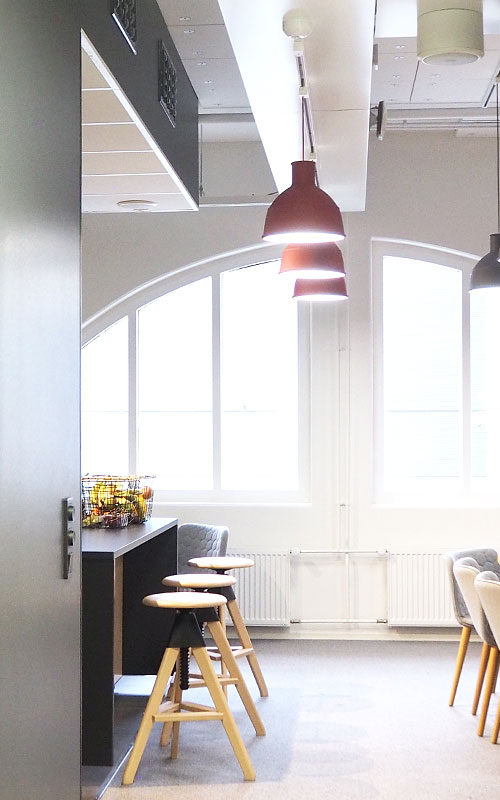 The work desks are located mainly next to the window strip at the edge of the office. Meeting rooms of various sizes and distinctive appearances – boxes – are located in the middle of the space, thus dividing the work desk zones into two sections. This also positively influences the acoustics of the space – as does the textile floor tiles.
In Solita's case, Väyrynen wouldn't talk about it being an open-plan office, as there are lots of differently furnished zones for different purposes such as relaxation, interaction, meetings and concentration. For phone conversations, the phone booths were integrated into the central boxes.