Unique and urban small-house environment in Hiukkavaara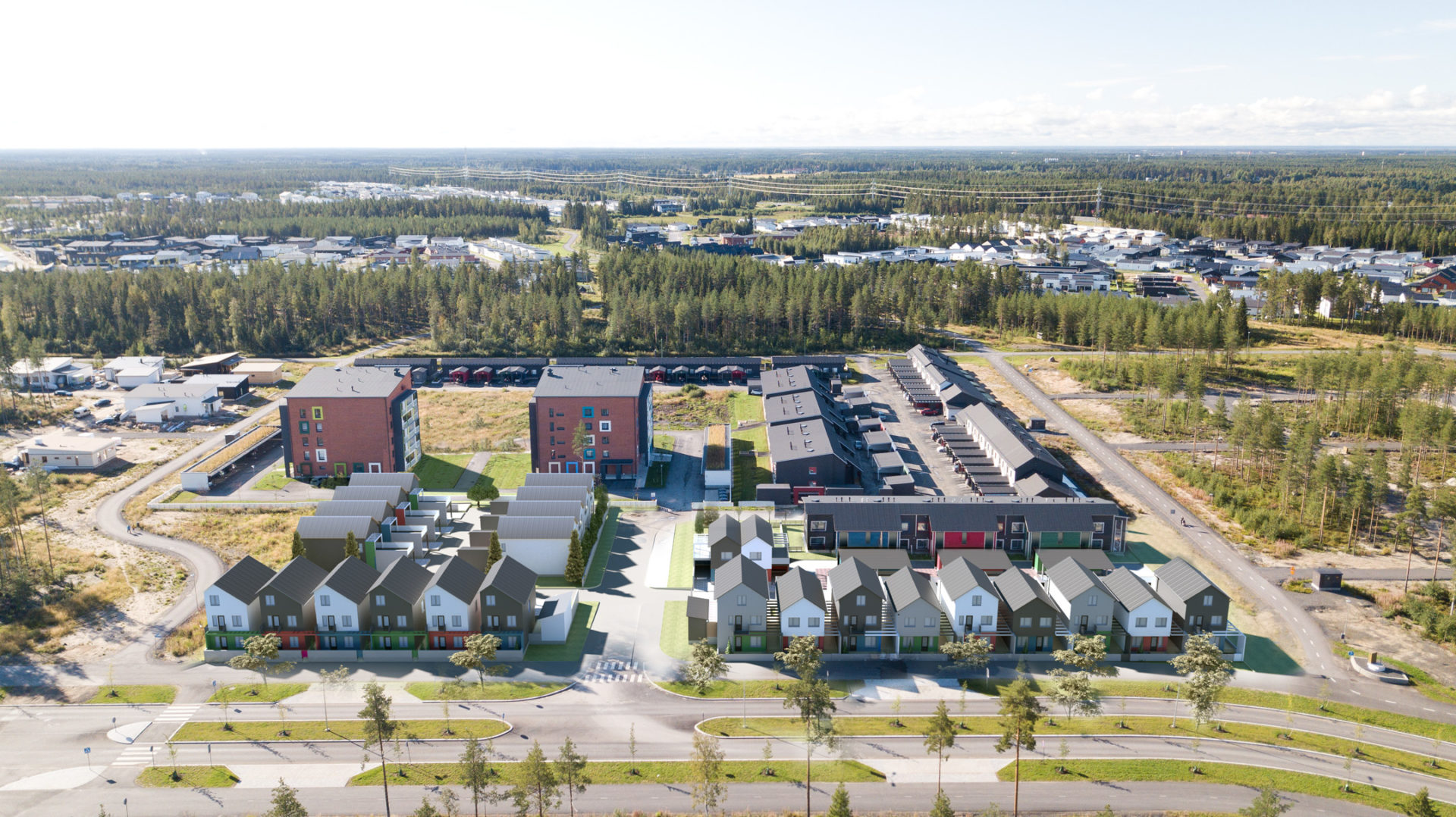 UKI Arkkitehdit, employer of over 70 architecture and design professionals, is acknowledged especially as designer of big projects, but the company also has considerable design expertise in dense and low construction, architect Leena Kaasila points out.
"We do a lot of area planning or preliminary zoning work for different construction companies. We have a variety of projects ongoing, and we would like to do even more small-house design, which is a field where UKI is diversely experienced", she adds.
"Residential planning is not only apartment building design. The importance of home and living has increased rapidly as families with children, elderly people and single people, for example, have spent a lot of time at home in these exceptional times. A comfortable home is now considered more important than it was a year ago, and here we can offer a lot of expertise", architect Mirva Ruotsalainen adds.
New urban small-house environment
A recent example of Leena Kaasila's and Mirva Ruotsalainen's dense and low construction design expertise is emerging in Hiukkavaara in Oulu. The last site of the Sonell construction company pilot area is being completed in the centre of the area.
The latest projects, Townhouse, Village and Balcony, represent new urban small houses, describes Leena Kallioniemi, Oulu city plan architect.
In the Hiukkavaara centre, we aimed at and achieved a new kind of approach to urban construction. The entire complex managed by Sonell has become an interesting starting point as a bold trendsetter in urban small houses

Leena Kallioniemi, asemakaava-arkkitehti

Sonell CEO Harri Majala fully agrees. Now we didn't play safe, instead we designed distinctive and different, individual family homes together with Leena Kaasila and Mirva Ruotsalainen from UKI Arkkitehdit.
"Innovative solutions make implementation considerably more challenging, of course. The pilot in Hiukkavaara has tied up personnel, time and money for years, but I believe it will be to our benefit in the big picture. We acquire new know-how and operating models, which we can utilise in our production", Harri Majala says.
Leena's and Mirva's design team puts special emphasis on the architectural engineering of Village and Townhouse. These projects were designed at UKI and they also achieved INURDECO goals by developing a new kind of dense-low three-storey detached house type for town centres.
"This project brought interesting environment and townscape to the centre of Hiukkavaara. Hopefully, there will be more dense-low design in the future", the duo ponders.
Urban development lifecycle concept INURDECO
The Hiukkavaara centre area has been a platform for the comprehensive Integrative Urban Development Concept (INURDECO) project, where the actors develop reproducible interactive design methods and tools for sustainable and energising winter cities.
"INURDECO brough a huge amount of added value to a work that we are usually unable to manage due to a lack of zoning resources. This kind of joint development work is really valuable. Experiences have contributed to development and learning, when the whole Hiukkavaara area is rising at a vast pace", Leena Kallioniemi explains.
Northern winter city is designed in cooperation
Leena Kaasila started the Hiukkavaara cooperation with Sonell already in her previous job at Architectural Firm Juhani Romppainen Ltd. After the acquisition, work continued in the service of the new owner, UKI Arkkitehdit.
The Hiukkavaara centre is designed and constructed into a sustainable northern winter city, a display window and development platform for northern design and construction. The flexible city plan accommodates innovative and economically sustainable construction.
"Cooperation has been quite diverse starting from many inspections of city planning basics that Leena Kaasila and Sonell created. We acquired knowledge of 3D design and involvement in the CAVE virtual space of UKI Arkkitehdit in the early stages of the design work", Leena Kallioniemi says.
Close cooperation with the architectural firm and the city right from the start of the project is praised by Harri Majala, too. When you don't pursue only your own goals, this time 1+1+1 is more than three, he adds up.
"We have now created a sense of common purpose, which eventually brings us all to the same situation from different directions. When you want to understand the viewpoints of others, you learn a lot personally. We have truly come together in cooperation."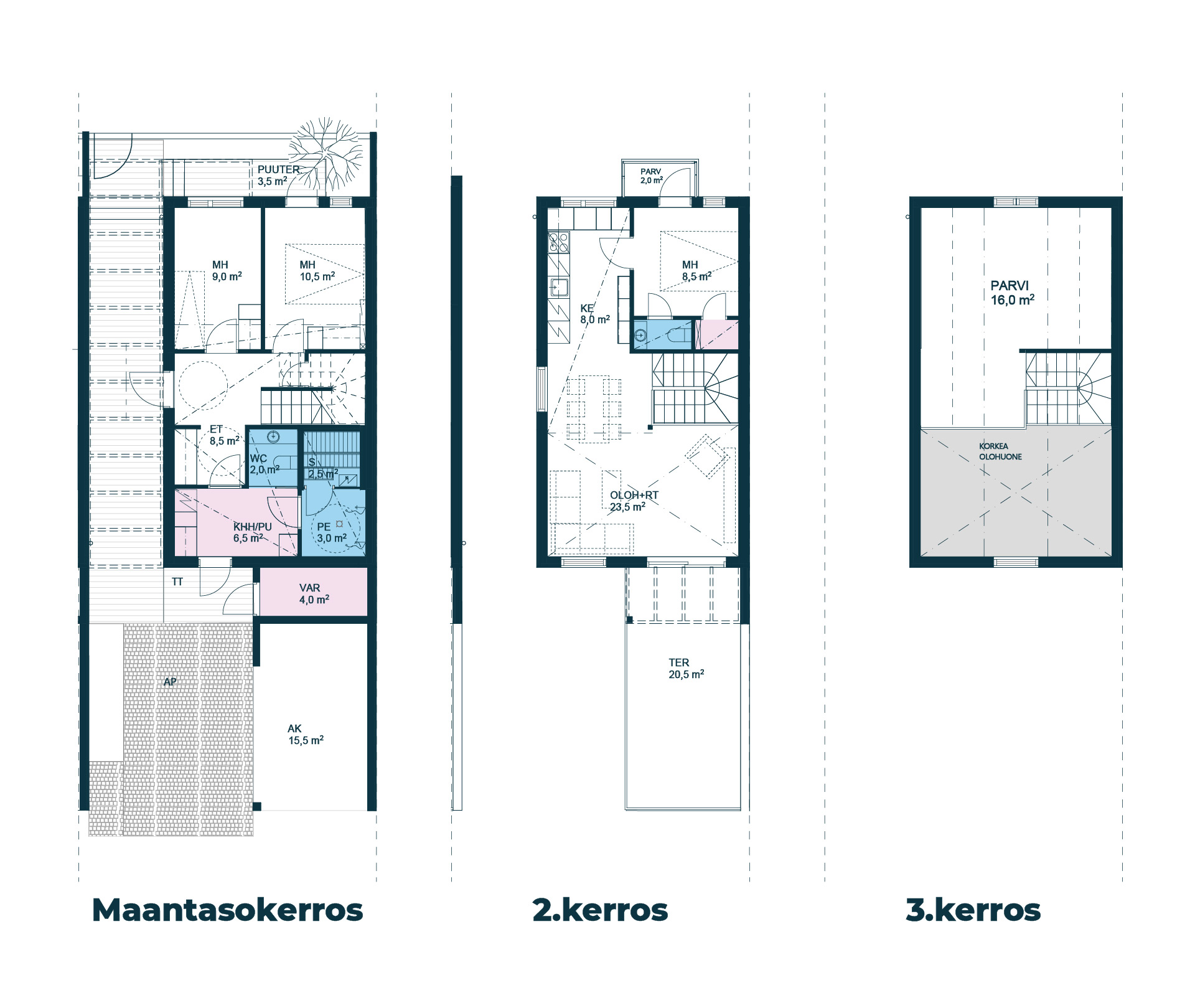 Mirva Ruotsalainen and Leena Kaasila have worked in close cooperation and give credit to the constructor from the designer's angle for the spacious apartments that allow variance. The flexible city plan enables quick reaction to changing situations and needs in the design. The goal from the start has been to increase floor space, and small houses rise to the third floor in the core of the Hiukkavaara centre.
In Village, two- and three-storey houses alternate at two-metre intervals. Hiukkavaarankatu street, upcoming buildings and community centre are located on the north side of the buildings.
"The unique houses have three different colours, three different greys and two heights. Not ten similar side by side but all individualistic", says Mirva.
Own floor instead of own room
The latest Townhouse has three different types of detached houses. Apart from the three-storey houses on Hiukkavaarankatu, the two-storey houses have also been implemented with the same concept.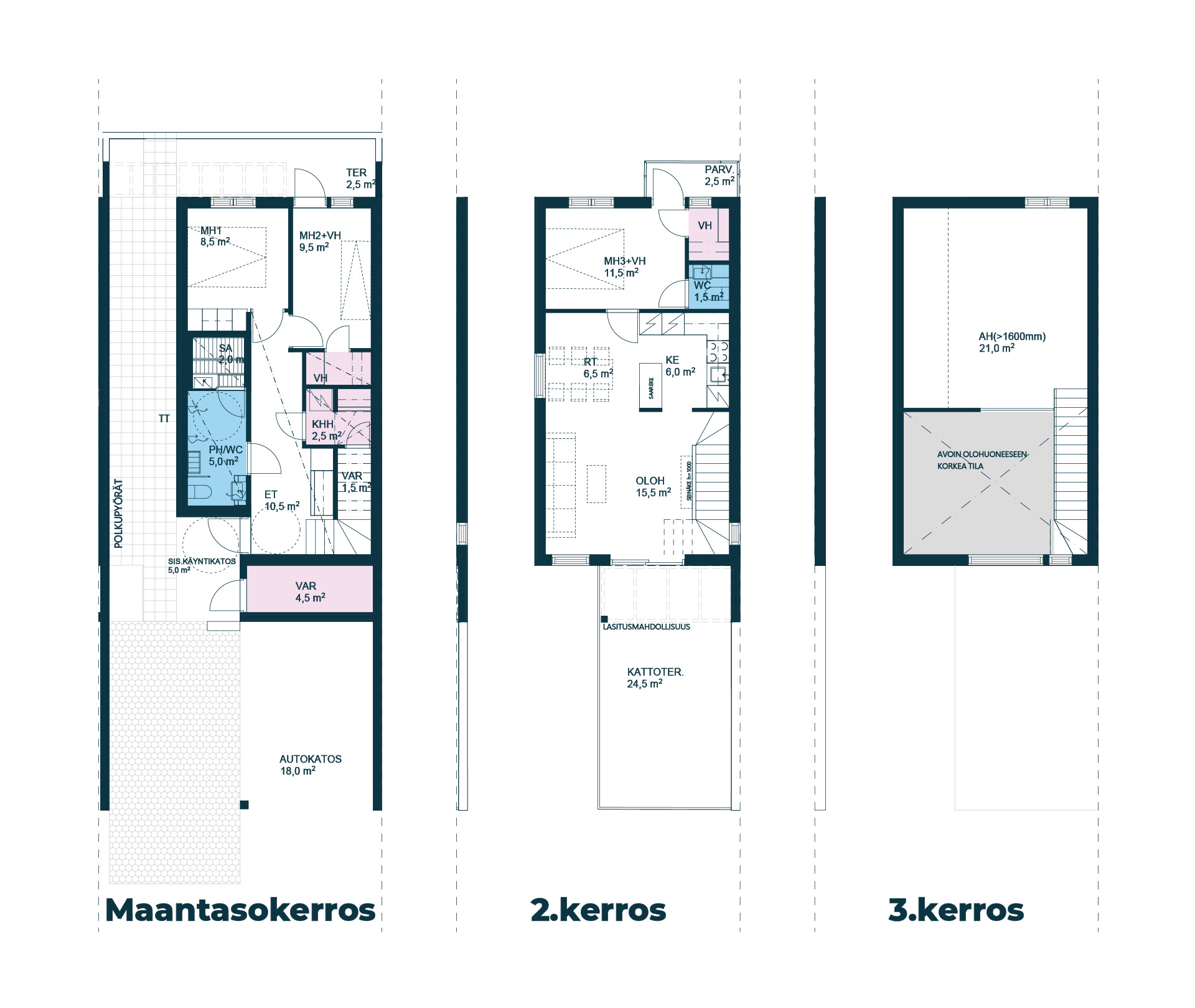 The first floor has the sauna section and a couple of bedrooms, and access from the side of Hiukkavaarankatu serves entrepreneurs, for example. The second floor has the living room, kitchen, dining area and one bedroom. The attic floor is on top with a loft that opens to the 5.5 metres high living room. The proper yard is on top of the carports, a large terrace.
"Slightly loft-like homes allow new kinds of living arrangements. For example, children can live on the top floor and parents downstairs. The middle floor is a common space where the family meets. In Townhouse, there is an own floor for everyone, not just an own room", the designers smile.
"The new generation may even regard a large grass yard as a minor burden. The yard is expected to be an extension to indoor space with large paved terraces – not lawn and potato patch", explains Harri Majala.
The idea of a winter city has been in sharp focus throughout the design work, architects Mirva Ruotsalainen and Leena Kaasila point out.
"For example, the balanced hues of grey and colours constantly visible in the streetscape have been planned carefully. The lack of colour in winter has been compensated also with evergreen plants and plant and environment design in general. Plants climbing the walls in summer give the environment a different appearance."
The designers were a little tensed by how home buyers would react, but quite many customers have eventually been interested in these new three-storey houses.
We as a construction company are proud of this area and the housing production. We have received so much positive feedback from customers that I can proudly confess that these houses are our projects. This is no basic Oulu housing production, this is landmark construction. These houses really stand out

Harri Majala, Sonell Oy
"These homes are something quite new in the context of whole Finland. So far, there has been a notion in this industry that it's not possible to build a small house with three floors. The innovative design of Townhouse and Village brought something new to townhouse construction", concludes Leena Kallioniemi, Oulu city plan architect.