Exemplary Building Pro Nemus
Metsä Group's Pro Nemus Visitor Center, designed by UKI Arkkitehdit, received the Exemplary Building of the year 2018 award at the Jyväskylä Building Fair. The prize was awarded by the Central Finland Construction Engineers and Architects K-S RIA ry. Each year, during the Jyväskylä Building fair, the association highlights buildings of high quality as exemplary buildings.
Ecological values were emphasized when choosing the Exemplary Building of 2018. Pro Nemus' unique installation art was also remarkable: it was selected as a result of an installation competition for design students where the assignment was to use materials produced by the client. K-S RIA ry also wanted to highlight the importance of integrating art into buildings.
In addition to the prize, Pro Nemus was ranked 3rd in the public voting for Wood Prize 2018 organized by The Finnish Timber Council Puuinfo. Pro Nemus is also on the shortlist for Grafia's Vuoden Huiput competition in the Design category, thanks to an exhibition designed by MKTG Finland. The building's design by UKI Arkkitehdit is also a significant part of the exhibition: it's an example of the atmosphere and space that industrial scale wood products can create.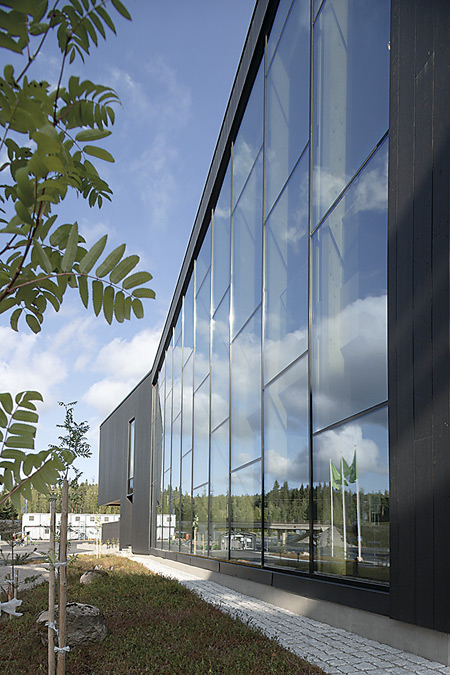 Photos: Ilpo Okkonen