Expanded interior design team is essential to succesful projects
Diverse design where each project is different. This is how interior architects Merja Helander, Satu Hämäläinen, Elina Vähäkylä, Kati Tuomikoski and Tanja Väyrynen at UKI Arkkitehdit describe their work.
"Instead of a single customer, we often serve a whole user group. There are many factors in design work when it involves architects and other designers as well as the client and users. The result has to be the best possible for all parties involved", says UKI interior design team leader Merja Helander.
The multidimensionality of the work is also reflected in the projects: there are many types of spaces under the same roof, and the facade and interior of the building must be in harmony. Therefore, it's important that an interior design specialist is involved in the project from the start.
Satu Hämäläinen, who works in Helsinki, says that diversity brings challenge and interest in the work: an interior architect can work in a project as a service designer, for example.
UKI Arkkitehdit has increased interior design resources and competence significantly. It's beneficial to all parties that the whole package comes from the same place. The client and users appreciate a consistent result, and UKI gains synergy advantage in the design.
When interior design comes from inside our own company, there are less information gaps and the result bears more resemblance to UKI Arkkitehdit and the client

Merja Helander, UKI Arkkitehdit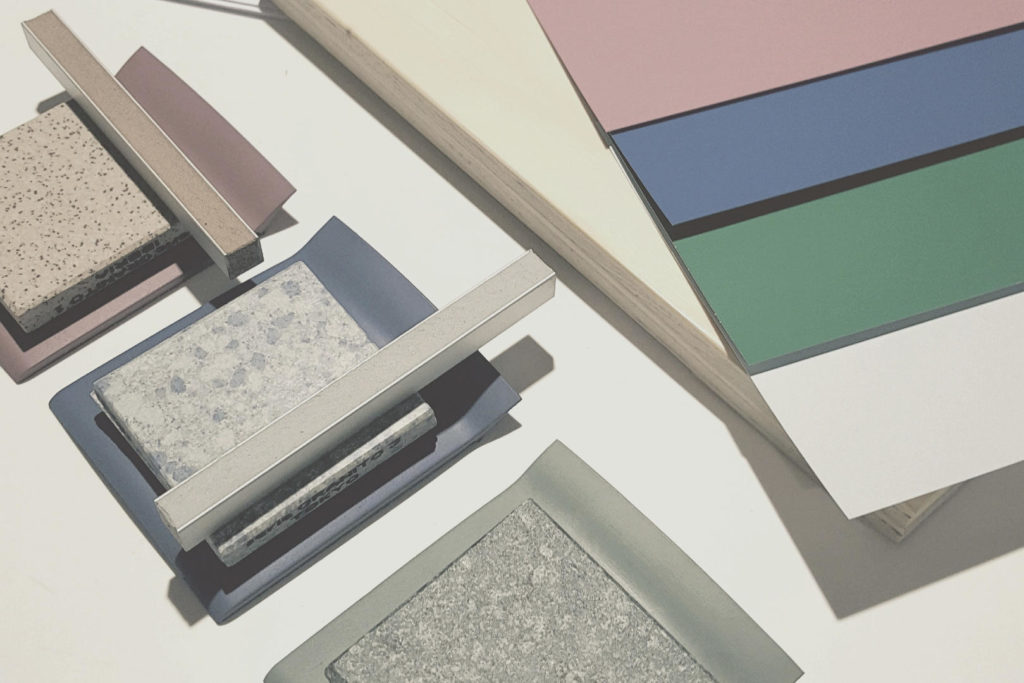 Not quite interior design magazine
The tasks of an interior architect in an architectural firm are quite different from how the work looks like on the pages of interior design magazines. In hospital design, for example, the interior designer needs a strong understanding of the special requirements in the field, such as clean rooms.
"We don't always draw fixtures or define surface materials there; we make sure that the premises can be made functional with the products and materials that are suitable there. We cooperate a lot with product providers: for example, surface materials for an operating room can come as ready-made elements", says the
newest member of the UKI interior design team, Elina Vähäkylä, who was recently recruited to the Helsinki office.
The scope of interior design varies in projects, but the main tasks include functional design as well as furniture and fixture design, sign design, colour and material design and special furniture produced by a carpenter, such as various reception desks. These visual elements are first visible to the users of the premises.
"Of course, the visual appearance also reflects the imprint of the architect because design is collaboration. Also, the client and users as well as the cleaners working in the building, for example, influence the choices", Merja Helander says.
Focus on usability
Changes in the society also influence the work of an interior architect. The school world was recently revolutionised by changes in learning conceptions, now the corona brings an upheaval in working methods and environments.
"What it finally means on the practical level – that is not known yet. My dream project could be a future work environment that allows for adaptability, agility and surprising situations such as the corona", Satu Hämäläinen ponders.
UKI Arkkitehdit wants to contribute to low-carbon construction and help Finland achieve its climate goals. Kati Tuomikoski, who graduated as interior architect last year, thinks that this goes well with ideas about a positively trendy dream project.
"It would very probably be a zero or plus energy project in a way that the interior would also be ecolabelled, and the design would be continuously directed towards sustainable development."
The everyday work of an interior architect is collaboration with various parties. Users are an important collaboration partner, of course. They are frequently contacted during the project, and there is a lot of interactive design.
For UKI Arkkitehdit, 3D design is a rule rather than an exception. When the planned materials, lighting conditions and scales can be displayed correctly, the space becomes more concrete to the client representatives already in the design phase. Concreteness is also emphasised in UKI's interactive VALO™ method.
"The user-driven VALO™ design method is widely used in hospital design, for example: perceiving is easier in a virtual space than with mere drawings, because
sometimes the wishes can be quite utopian", explains Tanja Väyrynen, who works at the Oulu office.
"This is helpful especially when designing routes and other usability. An opportunity to have an influence is important and a good motivator for many", Merja Helander agrees.
UKI appreciates interior design professionals
UKI Arkkitehdit as a workplace receives kudos from the interior design team. Merja Helander says she has noticed that interior design professionals are highly appreciated at UKI.
Satu Hämälainen points out that companies are well aware of how valuable interior design is for building a brand. A well-designed interior is therefore considered important: an outcome with successful visuality and usability requires professional work.
"Interior design and its value to a company as well as highlighting the brand with the means of interior design are things that professionals are readily used for", Tanja Väyrynen adds.