Stora Enso Oyj, Newsprint mill, Langerbrügge, Belgium 2004
When Stora Enso Oyj had a new newsprint mill constructed in Belgium, a power plant burning de-inking waste from recycled paper was also built on the factory grounds. UKI Arkkitehdit drew the plans for the paper mill, power plant and office spaces in 2002-2004.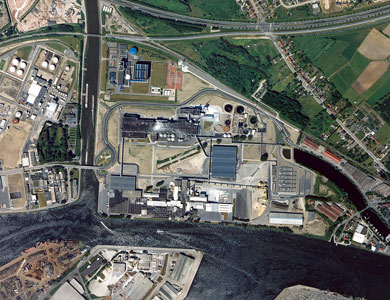 "Selecting the architectural planner was made on the basis of tenders as well as idea and draft designs. The draft design of UKI Arkkitehdit was considerably more developed than the competition and was based on knowledge of paper mill processes. They used Stora-Enso's corporate colours in their proposal, enabling company identification also otherwise than by name",
project manager Sami S. Pitkänen recalls the early stages of the construction.
The Langerbrügge plant has the world's biggest newsprint production line which uses recycled paper as raw material. The annual production capacity of the machine is 400,000 tons, and it makes ten metres wide paper almost two kilometres per minute.
The plant is located at the harbour of Gent, which is an ideal location for paper recycling, because ca. 80 million people live within a 300 kilometre radius from the plant. The raw material used by the plant comes mainly from an area bordered by London, Paris, Amsterdam and the Ruhr area in Germany.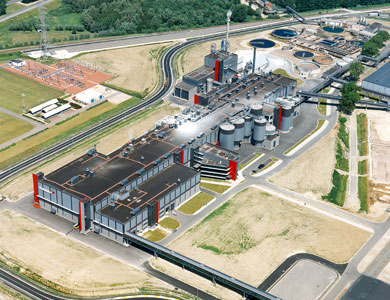 "UKI Arkkitehdit proved their commitment to their task already at the early stages of the project. Implementation was a great success due to good cooperation and high expertise. The personal participation of the main responsible architect both in design and most important project meetings also contributed to effortless development and decision-making also in difficult decisions",
Pitkänen notes with satisfaction.
The implementation of the Langerbrügge plant was a great success due to good cooperation and high expertise.