Kempele health centre -combines old and new
Inauguration of Kempele health centre extension and renovation were celebrated in the beginning of June.
The health centre, located at Kirkkotie in Kempele, was originally completed in the late 1980's. The building served its users without any major renovations until the extension and renovation begun in 2015. The thorough renovation was completed gradually, and all renovated and new spaces were taken into use in the beginning of 2018.

Architect Tuomo Karvanen from UKI Architects was responsible for the architectural design of the renovation and extension of Kempele health centre. According to him, this was a groundbreaking and also a challenging project.
The project was executed with so called alliance model and it was one of the first alliance projects in Northern Finland. At the same time it was the first project in Finland where Kuntarahoitus Oyj was involved as a leasing party.
"Alliance model worked very well in this project. I am sure that the subscriber saved both costs and time thanks to this model", Karvanen reckons.
Special challenges were caused by the fact that the heath centre continued operating throughout the renovation and building works. This demanded careful planning and phasing from the designers and builders and the health centre had to relocate their operations. The extension building was built first and and after that the renovation was completed in two phases.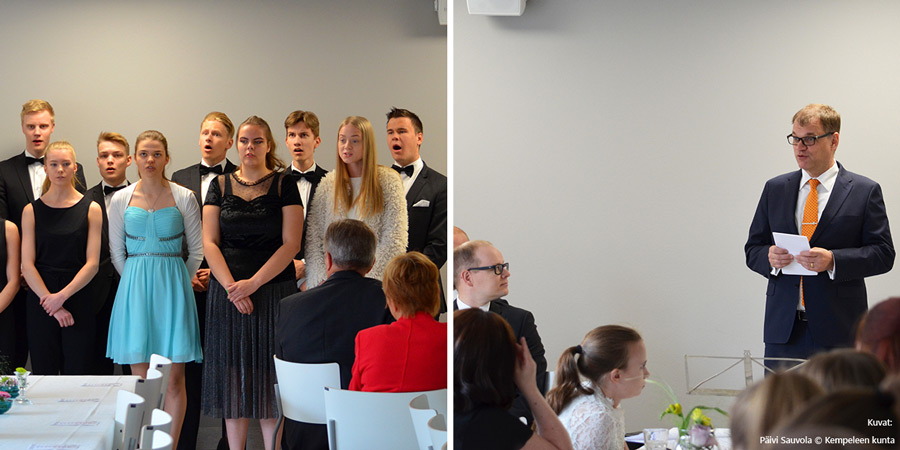 Inauguration ceremony was held in june.
According to Karvanen, the building was challenging architecturally because the centre itself is not very large but it contains several operational units. There are doctors' practice, health centre hospital, laboratory, x-ray unit, dental clinic, child and maternity clinic, mental health clinic and rehabilitation unit under the same roof.
Combining the old renovated building and the new extension architecturally demanded some consideration.
"Basically, we had two options: either to design the extension as subordinate to the old building or design a pair for it. We discussed this a lot and ended up with the latter option. The extension is an independent building", Karvanen says.
Façade of the renovated red brick building remains faithful for the original 1980's design. The extension building is attached to the old building with two-storey passageway and it differs from the old both by its form and façade colour. Although the parts are architecturally separated, there are also enough of similar forms and shapes as well as materials so that the entity is balanced and controlled.
"Our goal was to design an entity, which is functionally good and also fits its surroundings", Karvanen summarises.